Tara Hahn
Vocals
Max Beckman
Guitar/Vocals
David Parris
Keys/Guitar/Vocals
Mark Anderson
Luis Gracia Alonso
Trombone
Savannah Tweedt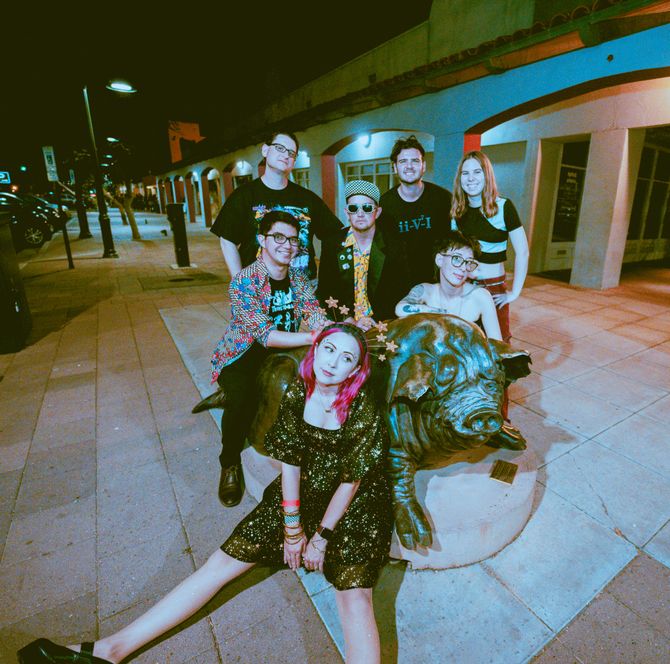 Having formed in 2006 and gigged with the likes of  Reel Big Fish, The Aquabats, Less Than Jake, The Skatalites, RX Bandits, The Selecter, The English Beat, Mustard Plug, The Toasters, and Pato Banton, Half Past Two are veterans of the ever-thriving Orange County ska scene, but their forward-thinking approach also aligns them with with ska's bold new generation. Their recent single "Shine" was a highlight of Asian Man Records, Bad Time Records, and Ska Punk Daily's 2020 compilation 'Ska Against Racism' -- a now-definitive document of the fast-growing New Tone ska movement -- and it doubles as the lead single of Half Past Two's self-titled album, released October 29, 2021 via Pay Attention Records, the new label from Ska Punk Daily and the venerable Jump Up Records. "I penned ['Shine'] at the time my family found out that our daughter has Spinal Muscular Atrophy (SMA), a neuromuscular disease," said singer Tara Hahn. "I didn't write the words to share, but my bandmates really encouraged me to evolve the song." It's a powerful, vulnerable, and uplifting song, and a centerpiece of 'Half Past Two,' which has become one of the most anticipated albums of ska's current resurgence. 
Some people ask, how could ska -- a genre filled with 9-piece bands (like HP2) that relies so heavily on the live show experience -- have a resurgence during a pandemic? But, like many of the other ska bands and musicians who have recently come to prominence, Half Past Two didn't let the socially distanced world slow them down. They made the best of it. 
"Look, everything stopped and some of us have not rested, we reassessed and kept going!" Tara said. "There's momentum and a lot of purpose right now, that's going to become something really transformative and beautiful." 
Half Past Two brought that same energy to their new album, which came together like no other HP2 release. "It used to be 'well everybody listen to this song and we'll all meet up at band practice and work it out' but getting 9 people into the same room is not an easy task these days," said guitarist/vocalist Max Beckman. "A lot of these songs have had to be built in the studio piece by piece and player by player." It was recorded, mixed, and mastered by David Irish at Pot of Gold Studios in Orange, CA, and Irish co-produced the album with Meagan Dolce. 
Half Past Two might not have been able to get the whole band in the room at once, but this new album is actually Half Past Two's most collaborative effort yet. "I think this is the most different songwriters we've had on one record, everybody is chipping in," the band says. "Tara's lyrics, Max, David, Jack, Din, writing songs or huge chunks of songs!  It's crazy! Everybody gets a credit!" They used more instruments than ever ("4 horns! 6 keyboards! Too many different guitars to count! More snares than you can shake a stick at!") and their horn section contributed to the songwriting process more than ever. "In the past, whoever wrote the song would typically arrange the horn parts but all that has changed. Our current horn section are all brilliant writers and are coming up with more intricate, complex, and layered parts than we've presented previously." It's also the band's first time collaborating with outside songwriters. Daniel Torres, ex-frontman of OC ska-punk veterans CodeName: Rocky, wrote the song "All About You," and "Curtain Call" (which also appears on Pay Attention Records' new 'Too Hectic! California Ska Punk' compilation) was written by Brandon Strumlauf of the now-defunct band Maxwell Smart. 
Half Past Two's album-making process took a little longer than usual due to COVID, but they kept the momentum going by rolling out singles on a regular basis throughout 2020 and 2021. As you can hear on the pre-release singles, Half Past Two pull inspiration from multiple eras of ska as well as anything from driving punk rock to shiny pop. They cite such influences as Reel Big Fish, Weezer, The Hippos, RX Bandits, and Mad Caddies, and they're proud to coat their songs with a little sugar. "Someone on the internet thought they were making fun of us and called us 'bubblegum ska' and it's honestly the best description I've ever heard of our band," said Max. "I guess you can imagine a punk band that whittled away all the hard edges until they had a perfectly shaped heart, then they covered that heart in glitter and horns. That's us."